Garmin Barklimiter 2VT Smart Bark Control Collar [GAB004]
Features
* Suits small & sensitive dogs from 4kg in weight
* Accelerometer Technology bark sensor to detect barking
* 3 stimulation mode – tone, vibration, smart mode
* Bark Odometer – bark counter in Garmin Canine Smartphone app
* Rechargeable and last up to 30 days per full charged
* LED indicator for operating modes and battery status
* Waterproof and lightweight
* 12 months warranty
---
or 4 fortnightly payments of $44.75 with
More info
---
Compare
Product Description
The Garmin Barklimiter 2VT Smart Bark Control Collar is a new generation bark control collar that works with Smartphone via Garmin Canine app. The VT means it is a Vibration and Tone only anti bark collar. It 100% safe to dogs and effectively stop small and sensitive dogs from barking. The collar can be programmed into different operating mode by the mode button. However, when connecting the Garmin Barklimiter 2VT to the Smartphone app, it will have more features and options to choose from – bark activity tracker, stimulation modes combo, bark allow. This collar is fully waterproof and rechargeable with fast charge lithium battery. The battery could last up to 30 days per full charge (collar turns off when not using and max 8 hours standby time per day).

The small Garmin Barklimiter 2VT Smart Bark Control Collar is design for tiny and sensitive dogs from 4kg in weight. For bigger dogs or more stubborn breeds like Jack Russell, Kelpie, Rottweilers or Labradors, we recommend the static correction bark control collar option.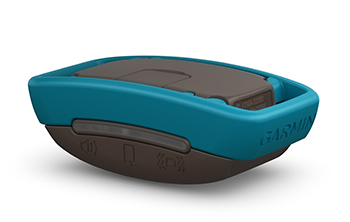 The Garmin Barklimiter 2VT anti bark collar has 3 stimulation modes to stop dog barking. They are Tone only, Vibration only and Smart mode (smartphone operated). When using the Barklimiter 2VT collar without a smartphone, it can be used as a traditional bark control collar. Press the power/mode button very shortly, the collar can be switch between Tone only and Vibration only. When connecting the Barklimiter 2VT collar to the Garmin Canine app, the collar needs to be in smart mode which the LED flashes blue. The Smart Mode gives you a lot more options to control the Barklimiter 2VT collar.
| | |
| --- | --- |
| 1 | Collar band |
| 2 | Charge port (under weather cap) |
| 3 | Power and operation mode selection button |
| 4 | LED indicator |
| 5 | Vibration mode |
| 6 | Smart mode |
| 7 | Tone mode |
Smart Mode – connect Barklimite 2VT collar with compatible smartphone via Garmin Canine App (Apple IOS and Android available)
Bark allowed
The Garmin Barklimiter 2VT Smart Bark Control Collar can be manually adjusted the amount of barking allowed before giving the dog a stimulation. It can be set from 0 to 5 barks to help avoid unintentional corrections from everyday activity. 0 means no barking allow which the collar will activate from 1 barking. 1 means the dog is allowed to bark once before receiving the stimulation (tone/vibration).
Stimulation
TheGarmin Barklimiter 2VT Smart Bark Control Collar has Tone and Vibration stimulation. It can be set for either or both on in Smart Mode (by using Garmin Canine app via smartphone). It can only change between tone only and vibration only while in normal bark collar mode (by pressing the mode button).
Bark counter
The Garmin Barklimiter 2VT has built in bark counter. It records down how many times the dog barks in the collar. This data will sync with your Garmin account when the collar connects to the Smartphone. This can help you to track the performance of the bark collar. If you find unusual barking pattern from you dog, you will need to check the power, setting and fitting of the collar.
Specification
Physical dimensions: 70 x 27 x 38 mm
Weight: 39.2g
Battery: Rechargeable lithium-ion battery. Up to 30 days per full charge
Package includes:
BarkLimiter 2VT dog device
3/4″ black collar strap
Charging/data cable
Manual